My Best Friend Max
(and our Memories of Bubba and Morgan)
---
Below: Here is a picture of Bubba and Morgan around 1999. She always watched him, Bubba would look at me and Morgan would look at him. They were a true "Pair" always so kind and considerate of one another, always so happy to be together. We lost Bubba in July of 2001 and Morgan in Feb. of 2004; both to old age.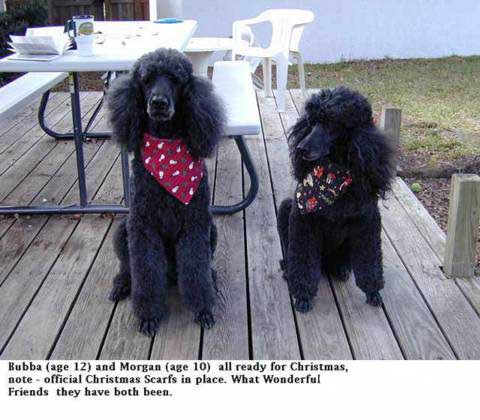 ---
Below Vicki with Bubba (left) and Susan Robinson (a Dear friend) with Shelby about 1 year old. Parker Robinson (a Dear Friend) used to come over to our house and play with Bubba from the time Bubba was a puppy. Now Parker and Susan are married, have their own house and of course a set of Standard Poodles;-). With a Wife, House and a set of Standard Poodles - a Daughter was in their future ;-).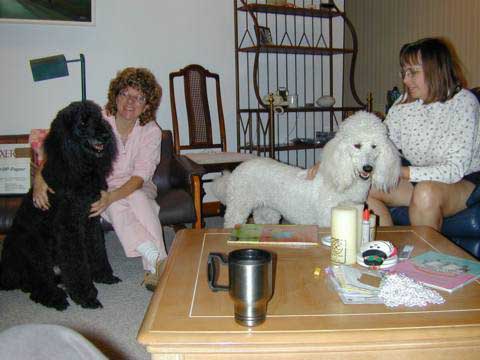 ---
Mary Alice holding "Andy". This is Parker & Susan's second Standard Poodle - a male named "Andy". Note the smile on Mary's face;-). Mary was 6 years old in this picture (13 Aug. 00). Click here to see Mary Alice with the same smile holding Max on our way home from picking him up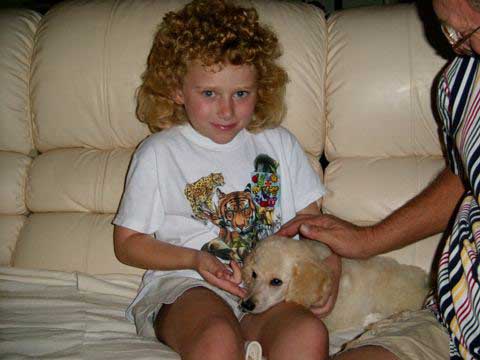 ---
"Max" Joins Our Family Nov. 2001
Yes Dear,.... Max has to go out every two hours for now.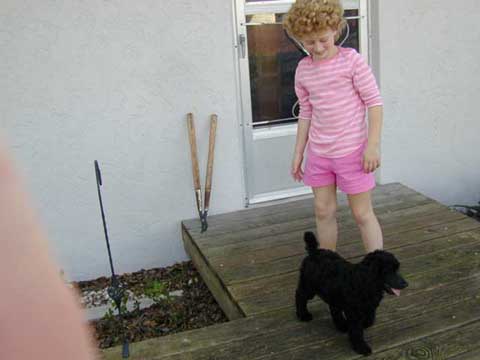 Below: Max at 8 weeks/12 lbs. Max was born 14 Aug. 01. We picked him up the first part of Nov. 01 ( I think it was around the 9th of Nov.) - when he was just over 8 weeks old. Max is from the same bloodline as Bubba and Morgan (Bay Breeze Kennels). However we "adopted" him from D'Ganti Kennels in Royal Palm Beach, FL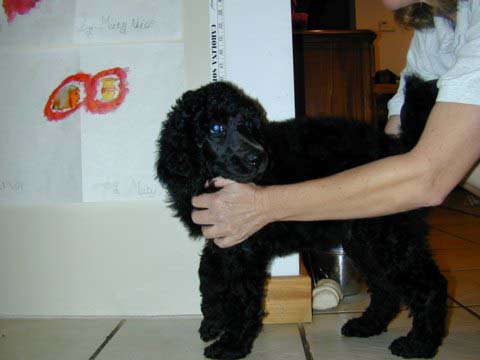 ---
Below: Max at 12 weeks / 20 lbs.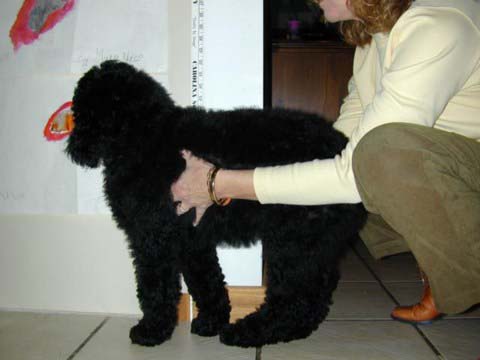 ---
Below: Max at 18 weeks / 35 lbs. Note the two small red circles below his chin - they were at the top of his head in the first picture above!. Bubba's head would have been at the top of the white drawing paper or where Vicki's blue sleeve starts in this picture. Max has a long way to grow yet;-)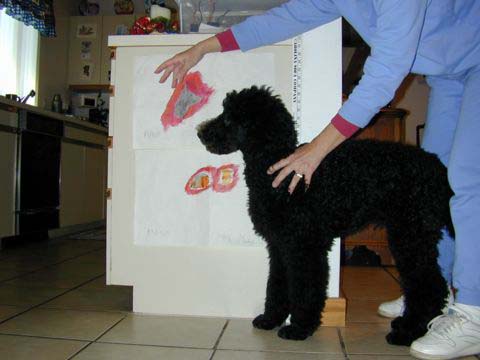 Below: Max at 20 weeks, you can not get that Frizby away from him!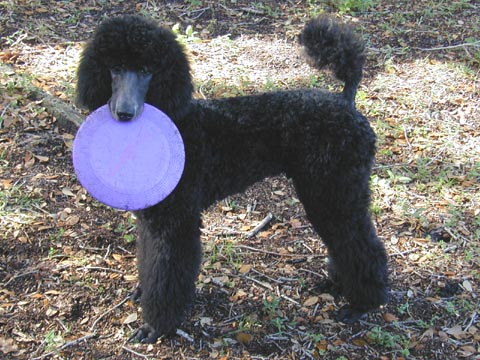 Below: Max at 6 Months - 48lbs. At this point he should be about 75% grown. So full grown at 18 months he should be about 65lbs. That would be about the same size that Bubba was - and a nice size it is for a loveable big lug;-) Max is very bright and displays a loveable disposition. On top of that he is developing quite the sense of humor and is finding all kinds of ways to tease me;-). Poodle owners know that these dogs all develop their own individual set of "Poodle Tricks" to play on the humans they live with;-) You just have to live with one for a few months to comprehend the depth of their intellect. Click here to read about "Poodle Tricks" if you are at all interested.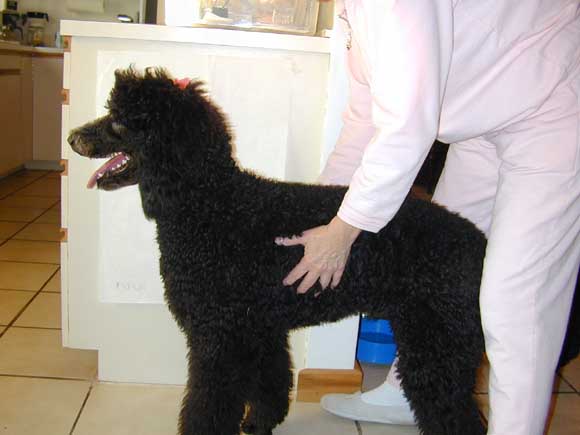 Below: Max at 16 Months - 65lbs. At this point he should be about 95% fully grown. He is now 25.75 inches at the shoulders. He is very solid and very healthy;-). He has developed a wonderfully happy and self-confident personality. Loves everyone and everything. To Max life is truly a Joy! - and he makes our lives ever so much More Joyful. I wouldn't change one thing about him and I couldn't love him any more than I do. (he knows it too;-)


Click on the image above for a larger version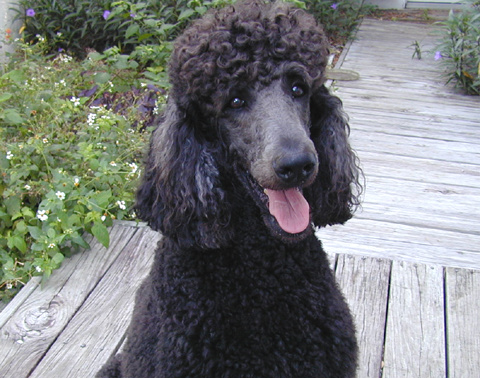 Here are some more pictures of Max and more "Max" stories if your interested.
---
Back To Home Page